Basic information about MRI PAS
The Mammal Research Institute is an independent scientific research unit of the Polish Academy of Sciences (PAS). It is one of the oldest scientific institutions of the Polish Academy of Sciences, and the only PAS institute in Podlasie region. It was founded in 1952 by prof. August Dehnel. Its long-standing director was prof. Zdzisław Pucek. Research conducted by the Mammal Research Institute PAS has been shaping the development of theriology (mammalogy) in Poland since the founding of the Institute. Studies on the morphology, taxonomy, systematics, evolution, population genetics, ethology and ecology of mammals conducted by the Institute have theoretical character, but also find application in wildlife conservation and management of animal populations.
Since its establishment, researchers at the Institute have published over 2,000 works including 52 books, 300 book chapters, 1,400 peer-reviewed scientific articles and over 330 popular science articles. The Institute actively co-operates with a number of scientific institutions abroad on joint research projects, and organizes conferences, seminars, staff exchange and training.
The Institute offers all the conditions necessary for successful performance of scientific research and educational activities: a dedicated team, outstanding workspaces (new, functional offices and laboratories), and close proximity to the unique research area of Białowieża National Park (UNESCO Biosphere Reserve and World Heritage Site). The Institute employs 60 people, including researchers, PhD students, and qualified technical and office staff.
The mission of the Institute is to acquire, advance, and disseminate knowledge of natural patterns and processes in order to improve the scientific basis for effective nature conservation activities and sustainable development.
The Institute pursues its mission by conducting research on all aspects of mammalian biology, publishing papers in scientific journals of world renown, developing international scientific co-operation, providing academic training, offering advice for governmental and non-governmental organisations, and disseminating knowledge of nature among the general public.
Location, facilities and capabilities
The Mammal Research Institute is located in Białowieża, eastern Poland, 250 km east of Warsaw, in the central part of the last natural European lowland forest – Białowieża Primeval Forest.
Since 2002, the Institute has occupied a spacious laboratory and office building with a conference hall for 100 persons, a seminar room, and students' computer room. The Institute also has specialized scientific laboratories for genetic, ecophysiological, geographic information systems (GIS), and microhistological research.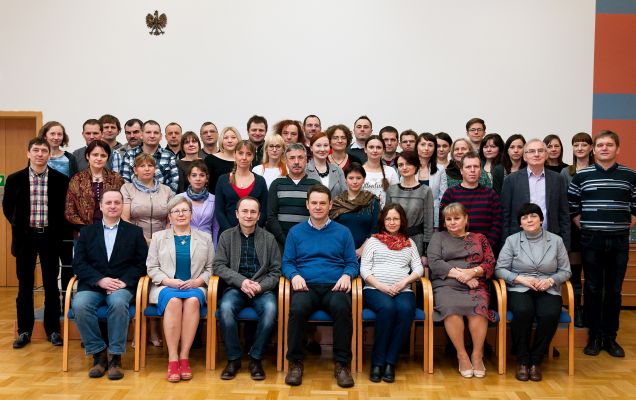 The Institute uses specialized outdoor enclosures and laboratories for research on small terrestrial mammals. It also has equipment for tracking animals via satellites and radiotelemetry, specialized equipment for live-trapping and handling of wild terrestrial mammals of all sizes (from the yellow necked mouse to the European bison), and vehicles for field work.
The Institute's scientific collection of mammals contains nearly 190,000 specimens, including 1,150 bison skulls. These items are made available to scientific institutions in Poland and abroad for research-related purposes and are used in educational activities.
The Institute uses specialized outdoor enclosures and laboratories for research on small terrestrial mammals. It also has equipment for tracking animals via satellites and radiotelemetry, specialized equipment for live-trapping and handling of wild terrestrial mammals of all sizes (from the yellow necked mouse to the European bison), and vehicles for field work.
The Institute's library is one of the largest natural science libraries in Poland. It offers 900 journals and approximately 10,000 books (mostly in English). The collection includes extensive literature on the Białowieża Primeval Forest.
All research projects realised by the Institute are scrutinised and approved by the appropriate Ethical Commissions. Special attention is put to provide that the research is designed and carried out with respect to the animals' welfare.
W obrębie Instytutu funkcjonują 4 zakłady
Zakład Genetyki i Ewolucji
Zakład Ekologii Behawioralnej i Ekofizjologii
Zakład Ekologii Populacji
Instytut prowadzi Naukową Kolekcję Zoologiczną liczącą blisko 190 000 eksponatów, w tym 1 300 czaszek żubra. Zbiory te są udostępniane do badań instytucjom naukowym z kraju i zagranicy oraz wykorzystywane w działaniach edukacyjnych. Instytut posiada również Bank materiału genetycznego ssaków obejmujący ponad 20 tys. prób tkanek ponad 40 gatunków ssaków.
Biblioteka Instytutu jest jedną z największych bibliotek przyrodniczych w Polsce. Oferuje 900 tytułów czasopism naukowych i około 9 000 książek. W zbiorach znajduje się bogate piśmiennictwo dotyczące Puszczy Białowieskiej.
Pracownicy Instytutu od początku jego istnienia opublikowali ponad 2 000 publikacji, w tym 52 książki, 300 rozdziałów w książkach, 1 400 artykułów naukowych i ponad 330 popularnonaukowych.
1) Genetics and Evolution of Mammals
The main research interests of the team focus on selected aspects of genetic variability in mammal populations, phylogeography, and the role of isolation barriers in species differentiation. For this purpose various genetic research methods are used, including nuclear and mitochondrial DNA markers and sequencing analysis. The species studied comprise small rodents as well as large mammals, particularly the European bison. Not only does genetic research have theoretical aspects, but it is also of practical importance as the results can be used in planning management and conservation activities related to threatened mammal populations. The team conducts studies on morphology of carnivore teeth, with a focus on fox populations. The analyses of mammal tooth size and shape provide valuable data on food adaptations, social structure, and other ecological parameters of populations, as well as on evolutionary trends in the study species.
2) Ecology of Natural Ecosystems
Group members focus on the study of ecological patterns and processes on a large spatial and/or temporal scale. The research aims to determine (1) the main historical and contemporary ecological factors and environmental impacts shaping the present genetic population variability in mammals on a wide scale; (2) the roles of environmental productivity, food resources, predation, and other mortality factors in determining the population size, density, and reproduction rate of mammals; (3) biogeographical patterns in predator – prey relationship variability; and (4) the impacts of large herbivores – compared with the history of human impacts and abiotic factors – on the forest regeneration and structure in Białowieża Primeval Forest. The species studied include ungulates (moose, red deer, roe deer, wild boar), small rodents (bank vole, yellow necked mouse) and predators (wolf). The researchers adopt interdisciplinary approaches: intensive local field study (telemetry, trapping, estimation of population density, photo-traps, plant measures), collection of genetic samples on regional and European scales, laboratory analyses (molecular genetics), meta-analyses of ecological data, and GIS technology.
3) Behavioral Ecology and Ecophysiology
The scope of the Group's research covers behavioural and physiological ecology of mammals, mainly rodents, bats and predatory mammals. Group members endeavour to unravel the correlations between the evolution of morphological and physiological traits and their consequences for animal life histories, behavioural evolution, and population dynamics. They also investigate the sensory adaptations of mammals, with particular focus on diversification of hunting strategies and migratory behaviour. To answer research questions both field studies (such as radiotelemetry, measurements of field energy expenditures by means of the doubly labelled water method, and analyses of habitat preferences) and laboratory techniques (molecular and quantitative genetic techniques, behavioural experiments, measurements of peak and resting metabolic rate, and reproductive hormone assays) are used. The results of studies explain animal adaptations to changing environmental conditions, for example in the context of climate changes or resource fluctuations, and can be applied in the protection and management of mammals, including populations of invasive species.
4) Population Ecology
The focus of this Group's study is interaction between large ungulates, predator species and the environment, identification of factors and mechanisms shaping the dynamics and distribution of populations, and the application of this knowledge in developing scientific bases for protection and management of large mammal populations. Group members are interested in how animals use space and in predator-prey interactions, with particular focus on the mechanisms of indirect and direct influence of large predators on ungulate populations. Also the influence of biotic and abiotic factors on genetic population structure is studied. The team conducts research on the patterns of environmental use by large ungulates: bison and moose, and factors affecting their diet and foraging strategies. Modern field techniques such as GPS telemetry, photo-monitoring and laboratory techniques including genetic, isotopic, hormone, and teeth micro-wear analyses are used. Research topics encompass the local (Białowieża Primeval Forest), regional scale (north-eastern Poland), national, and European scale. The results of the work find practical application in activities aimed at nature conservation and large predator and ungulate population management.
European Union projects and international collaboration
The Institute carries out projects funded under the European Union framework programmes including: LIFE, Leonardo, and Euronatur. The scientific and educational potential of the Institute has been strengthened in recent years owing to the EU projects BIORESC (Transfer of Knowledge in Biodiversity Research and Conservation) and BIOCONSUS (Research Potential in Conservation and Sustainable Management of Biodiversity), where several foreign experts in the fields of ecology, genetics, GIS, and mathematical modelling have been employed by the MRI PAS. These projects have also made it possible for Institute researchers to be trained in the above-mentioned subjects at European universities. Furthermore, the Institute is developing co-operation with research institutions in Eastern European countries under the project BIOGEAST: Biodiversity of East-European and Siberian large mammals on the level of genetic variation of populations. The Institute also collaborates on numerous research projects with several dozen institutions in Europe and around the world.
The Mammal Research Institute PAS is a renowned educational centre in the field of ecology and biodiversity, with experience in tutoring Polish and foreign students at levels ranging from undergraduates to post-doctoral fellows. Since 2004, the Institute has been conducting a joint training programme for PhD students based on a bilateral agreement with the Biology Faculty of Warsaw University. As a European Union Centre of Excellence during the years 2003-2005 and 2006-2010, the Institute organised Summer Schools in Ecology and Biodiversity and long-term training for students from EU countries. The Institute organises scientific events such as international conferences and workshops. Researchers from the Institute also provide expert opinions for European and state institutions and non-governmental organizations. The Institute promotes science through the presentation of research techniques and lectures in ecology and mammal protection for students, pupils, teachers, tourist guides, and various professionals.
Editorial activity and publications
In collaboration with the Springer Verlag GmbH the Mammal Research Institute publishes the peer-reviewed international journal Acta Theriologica – an English language journal on all aspects of mammalian biology. The impact factor of Acta Theriologica in 2008-2010 was 1.030.
The Institute also occasionally publishes scientific and educational books in Polish and English concerning diverse aspects of mammalian ecology and evolution, and the human impacts on the natural environment. The Institute's involvement in promoting environmental awareness is also targeted at a younger generation- through educational children's comics, books for children, and lesson plans for teachers.
The Mammal Research Institute is involved in several nature conservation activities. One of the Institute's main goals in the field of nature conservation is to develop a model for effective management of the Białowieża Primeval Forest ensuring its full protection. Researchers from the Institute take part in activities dedicated to preserving rare and threatened species – they have developed protection strategies for a number of species and a protection plan for Białowieża National Park.
"The European Bison Programme" initiated by the researchers of the Institute in 2004, including the part "The Land of the Bison", implements new concepts for the conservation of this species and sustainable development of the region based on regional natural and cultural assets (for details go to www.krainazubra.pl).
The Institute's researchers have developed a concept for a network of ecological corridors in Poland, which connect Poland's environmentally valuable areas and protect the migration routes of fauna and flora. The project has become an essential tool in the preparation of national land development plans that consider the need for nature protection.
In 2011, the Institute started a project LIFE+ "Polish Bird Refuges" aimed at the implementation and improvement of active protection of wetland birds in natural areas of high importance in five Polish national parks (Biebrza National Park, Drawa NP, Narew NP, Słowiński NP and Warta Mouth NP) (for details go to the project's website: www.ptaki-life.pl).
In 2010, the MRI PAS established the Podlasie Regional Forum for Environmental Knowledge Transfer (PREFEKT), with the participation of over 80 organizations and institutions from the region. PREFEKT serves as platform for co-operation that enables transfer of scientific achievements from the science and research sector to various professional and social groups (for more information go to the project's website in Polish: www.forumpodlaskie.pl).